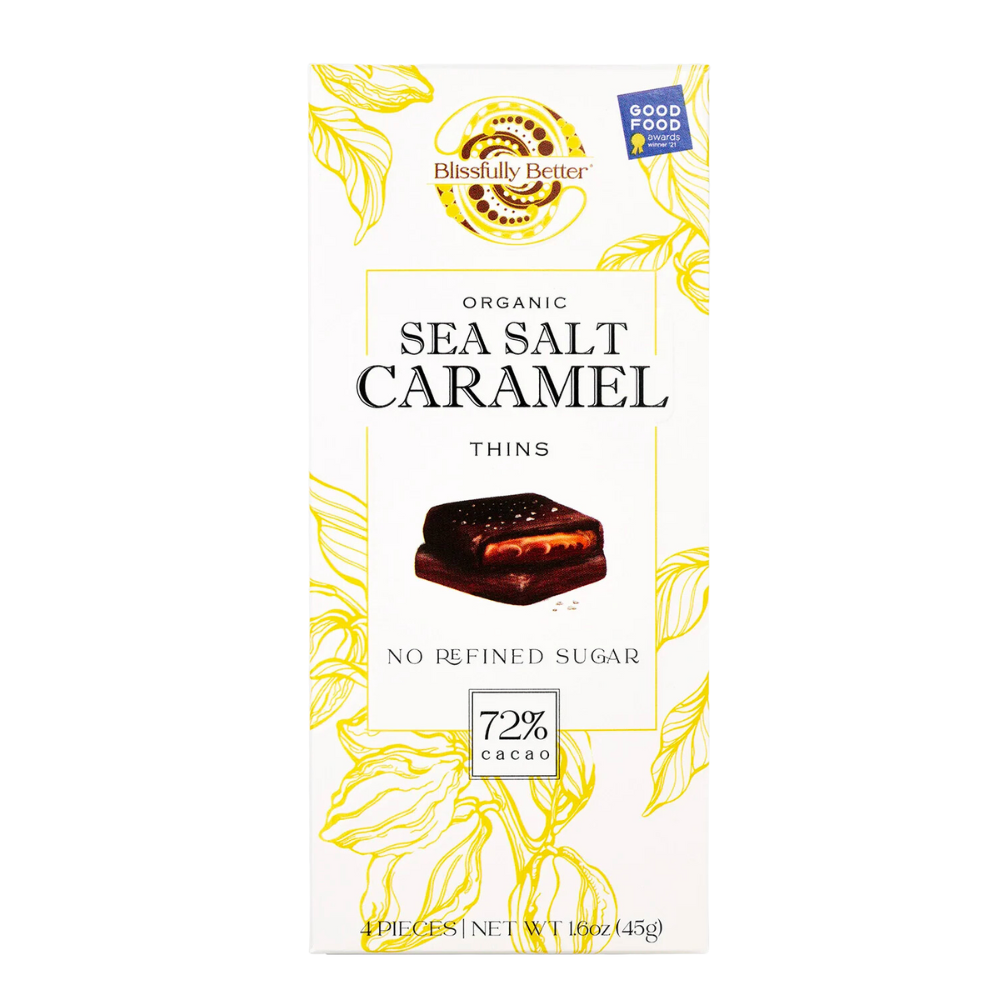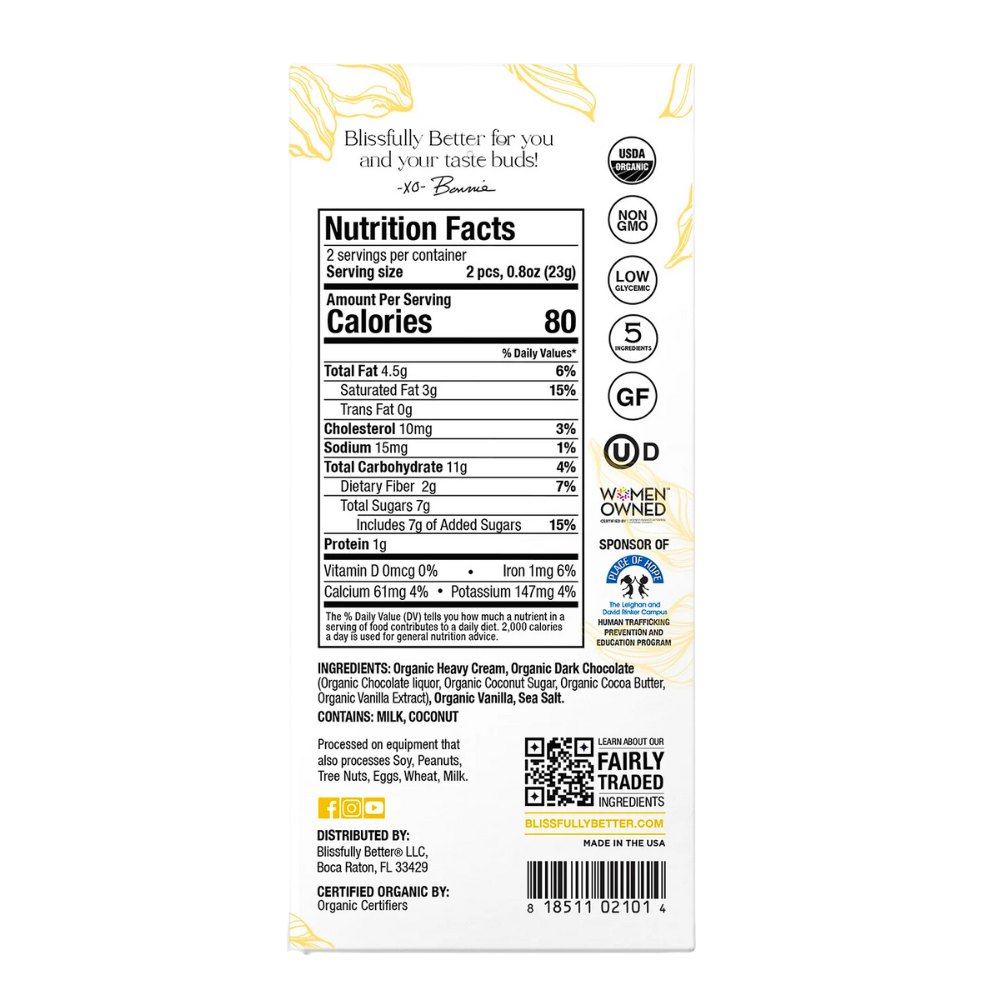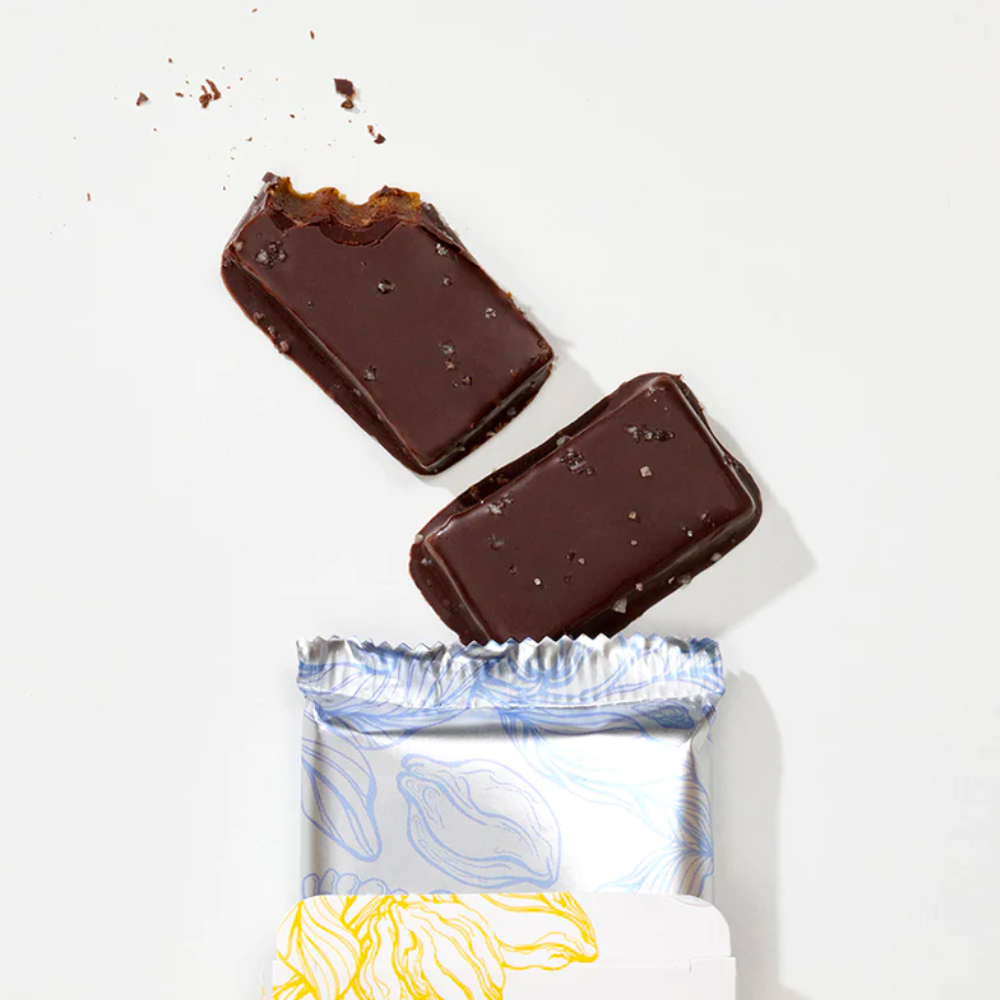 Using Coconut Sugar as our only sweetener, along with ingredients that are rich in nutrients and antioxidants, our mission is to make products that are Blissfully Better for your taste buds and your health!
Ingredients
Organic Heavy Cream, Organic Coconut Nectar, Organic Dark Chocolate (Organic fair trade Cacao, Organic fair trade Coconut Nectar, Organic fair trade Cocoa Butter, Organic Vanilla Extract), Organic Vanilla, Sea Salt
Certifications
Certified Organic

Certified Organic

According to the most recently updated manufacturer information, this product is certified Organic by an accredited third-party agency.

Certified Organic

Certified Kosher

Certified Kosher

According to the most recently updated manufacturer information, this product is Kosher certified by an accredited Kosher-certifying agency.

Certified Kosher
Attention
Please note that safety is our main priority. We require all brand partners to participate in recurrent verification processes to confirm existing information and actively report any updates to ingredients and/or production facilities. Please be sure to double check for certifications that satisfy your requirements, and read the product's label when you receive it, adhering to the manufacturer's guidelines.
Caramel Sea Salt Thins
Regular price
Sale price
$6.99
Unit price
per
Save 10% by subscribing to a monthly refresh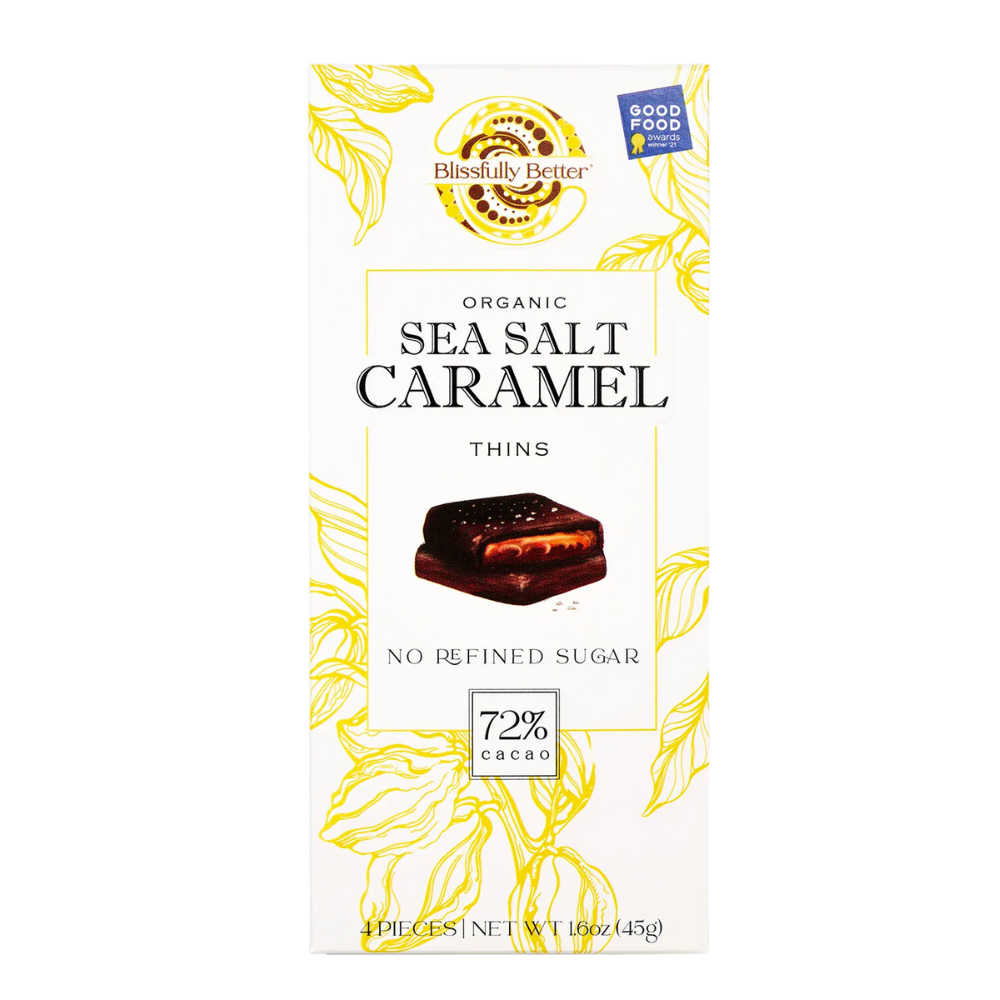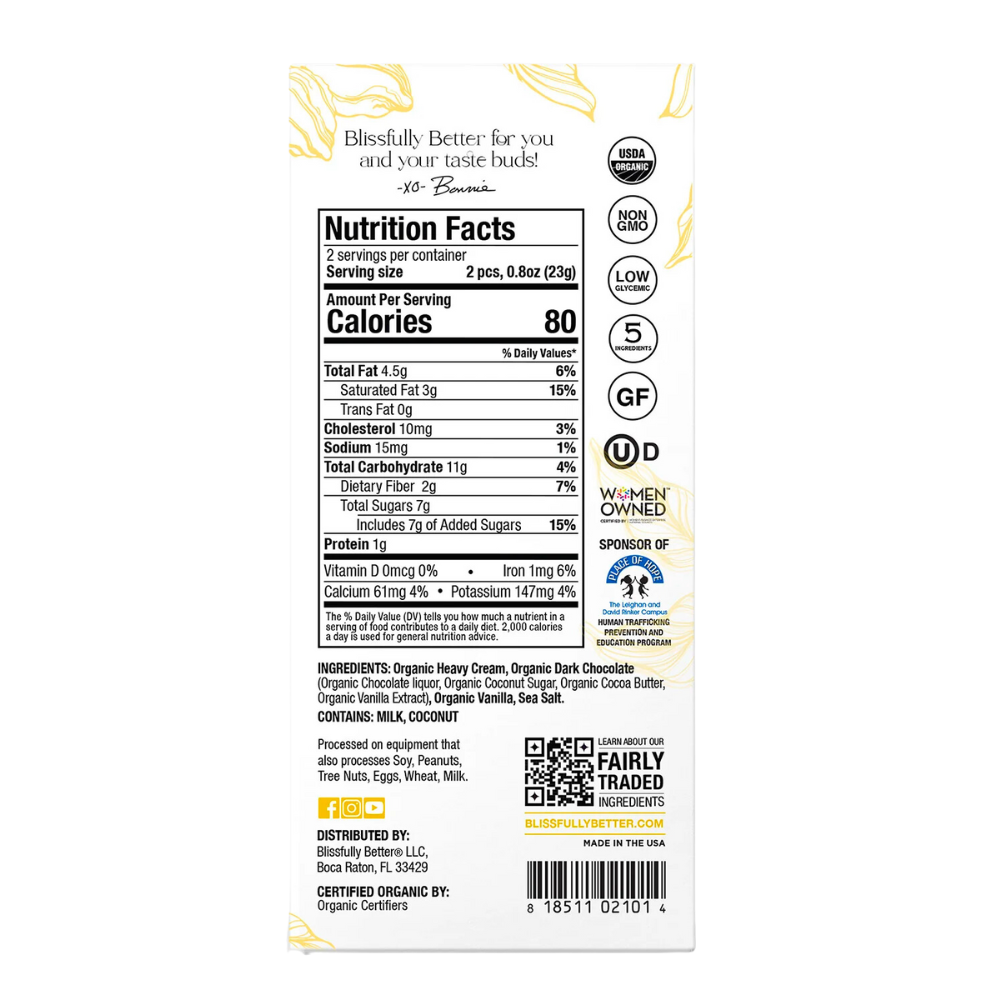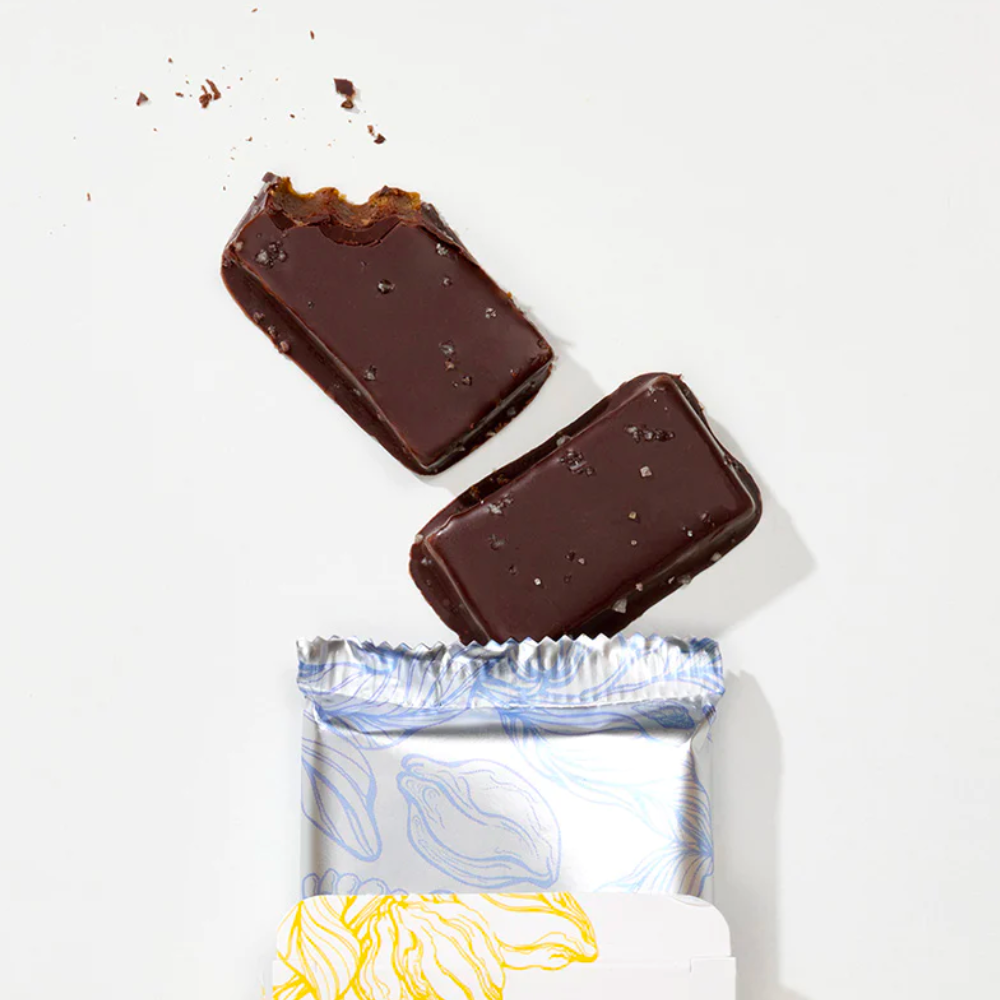 Blissfully Better is dedicated to creating the best-tasting chocolate with the highest quality organic ingredients and NO refined sugar! Your "sweet" dreams have come true!
Blissfully Better is an innovative company where some of the best tasting products are also some of the healthiest available. Blissfully Better's Toffee Thins, Caramel Thins, Mint Thins & Coconut Thins feature heart-healthy, high nutrient and low glycemic ingredients, chock full of antioxidants. Based on a family recipe by the founder's mother, our artisan made Toffee Thins, Caramel Thins, Mint Thins & Coconut Thins are a special sweet treat! Produced in small batches in the USA, each confection is handcrafted in copper kettles. We make the 72% dark chocolate for our toffee from scratch using 100% organic ingredients, and of course our signature high nutrient coconut nectar. Layered to perfection, Blissfully Better's secret to creating these delicious, yet healthful gourmet treats is coconut sugar, also known as coconut flower blossom nectar. This beneficial nectar, derived from the blooms of coconut palm trees, is a pure and simple low glycemic alternative to other available sweeteners, including cane sugar, organic brown sugar, honey, and agave syrup. It provides a slow release of energy, high nutrients, and 16 amino acids. On top of that, the unique, balanced flavor of coconut blossom nectar helps give Blissfully Better sweets a remarkable taste.
Shop All