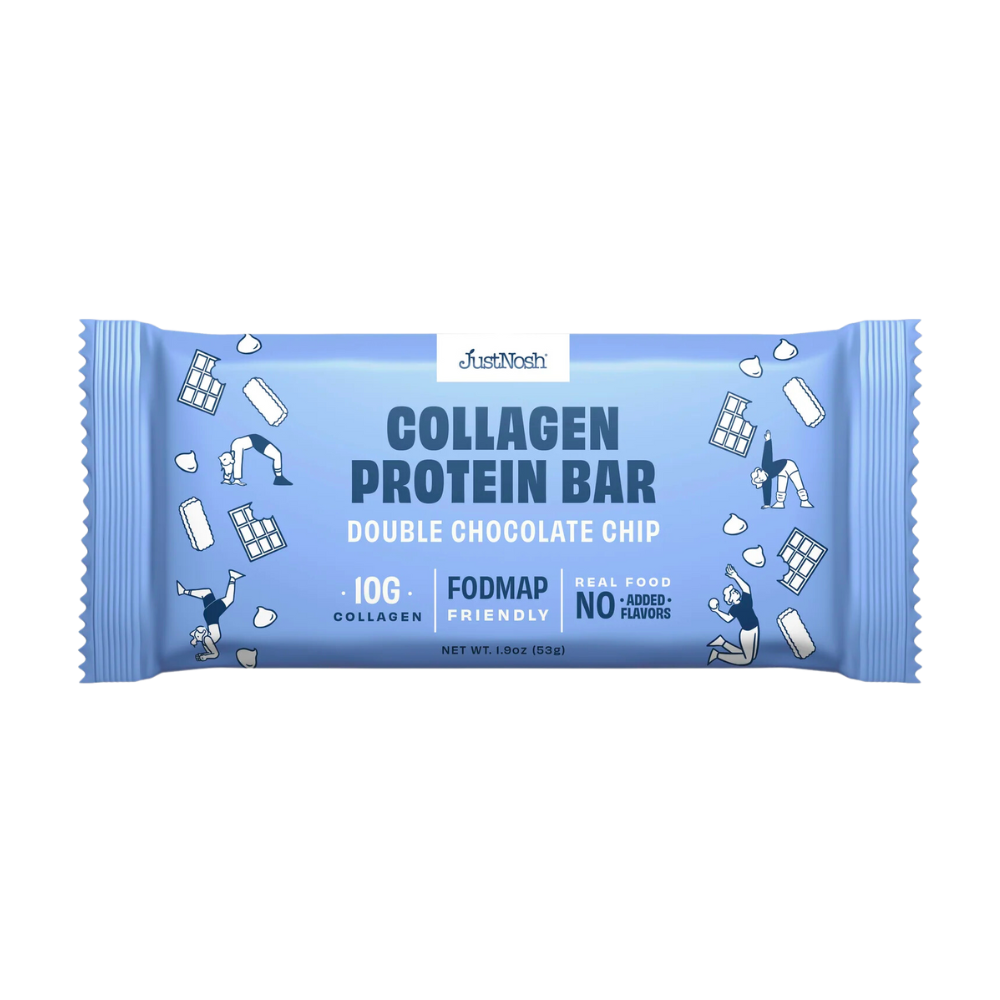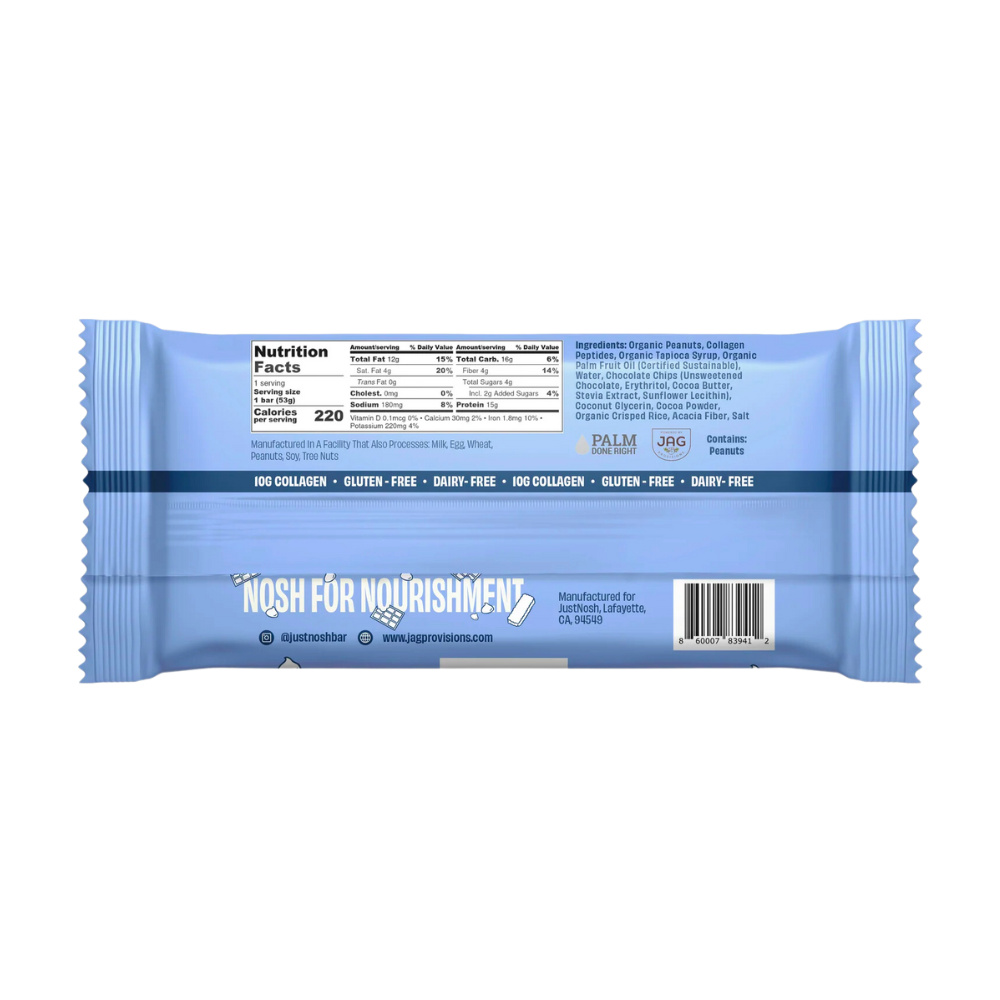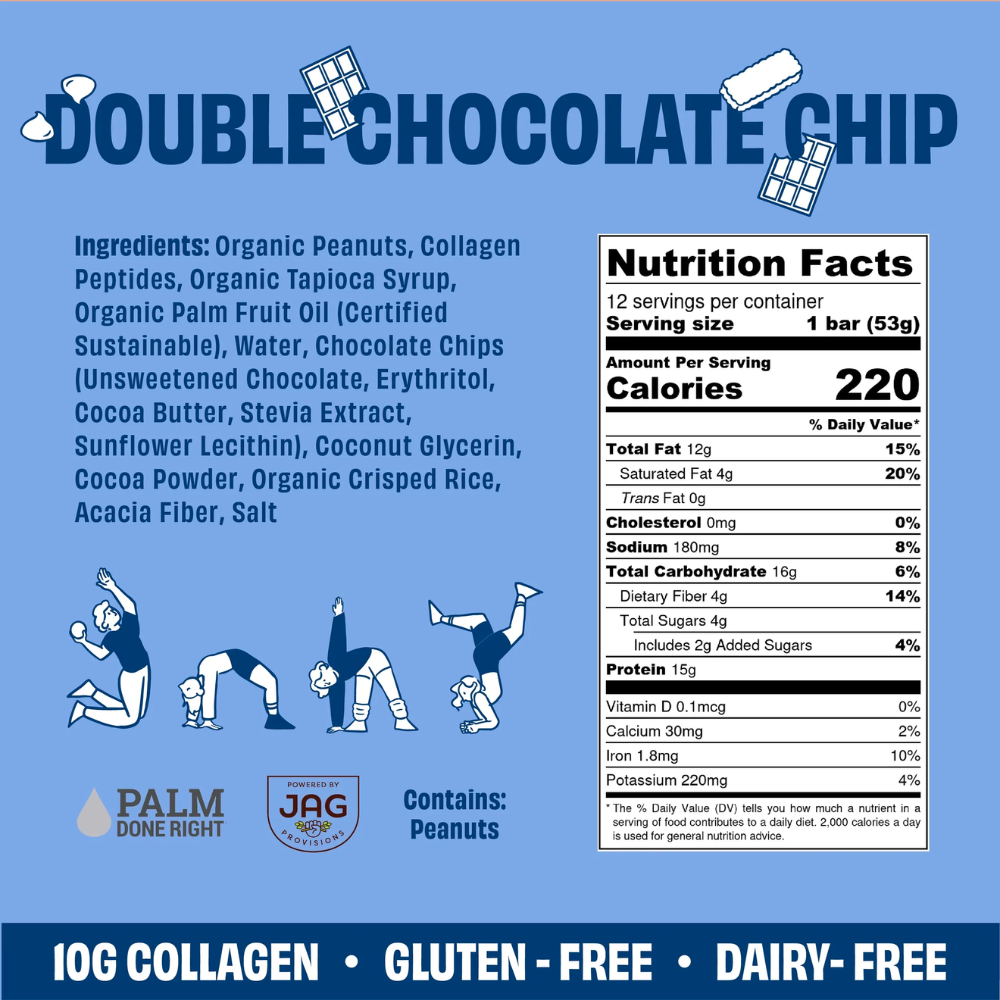 Chocolatey goodness with mini chocolate chips throughout, but made with just real food and 10g of collagen! JustNosh bars have balanced macros, and contain no added refined sugars or seed oils. Not a candy bar with added protein, these bars are FODMAP friendly, gluten and dairy- free, and contain only real food ingredients.
Ingredients
Organic Peanuts Collagen Peptides Organic Tapioca Syrup Organic Palm Fruit Oil (Certified Sustainable) Water Chocolate Chips (Unsweetened Chocolate, Erythritol, Cocoa Butter, Stevia Extract, Sunflower Lecithin) Coconut Glycerin Cocoa Powder Organic Crisped Rice Acacia Fiber Salt
Attention
Please note that safety is our main priority. We require all brand partners to participate in recurrent verification processes to confirm existing information and actively report any updates to ingredients and/or production facilities. Please be sure to double check for certifications that satisfy your requirements, and read the product's label when you receive it, adhering to the manufacturer's guidelines.
Double Chocolate Chip Collagen Protein Bar
Regular price
Sale price
$3.86
Unit price
per
Save 10% by subscribing to a monthly refresh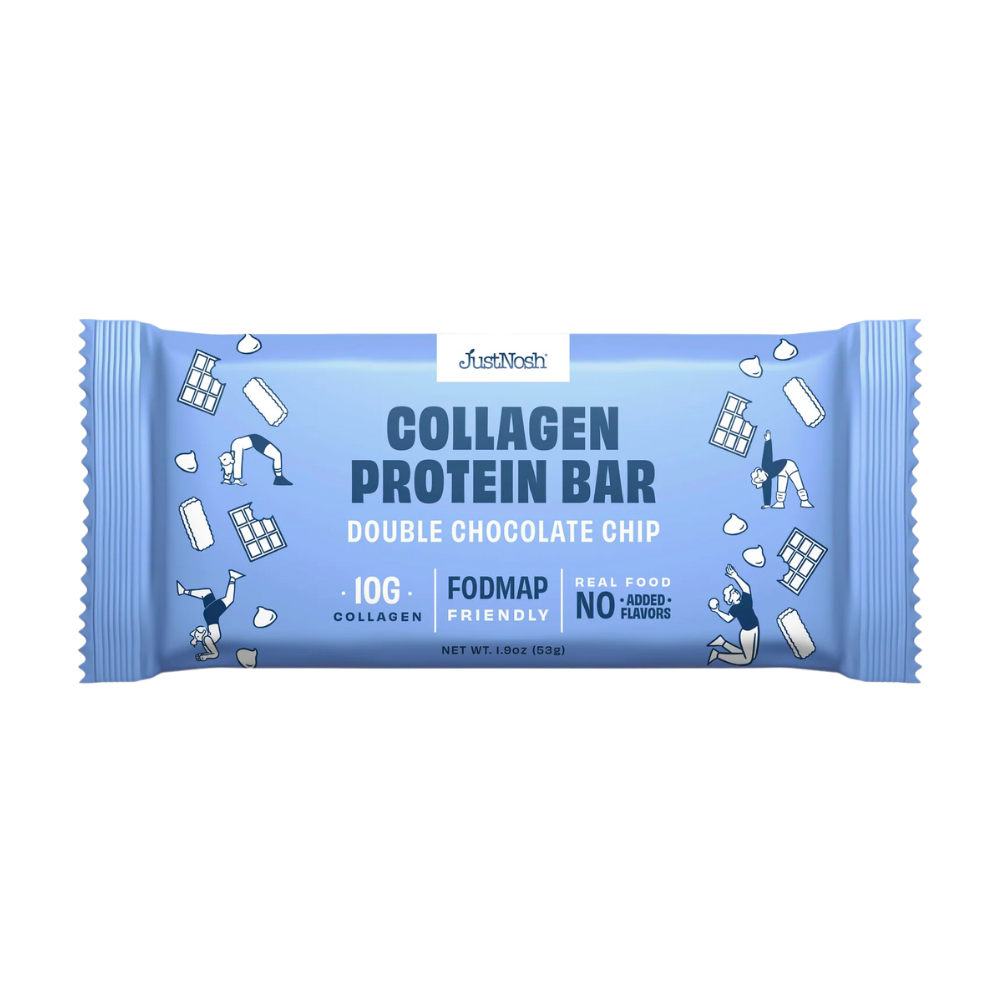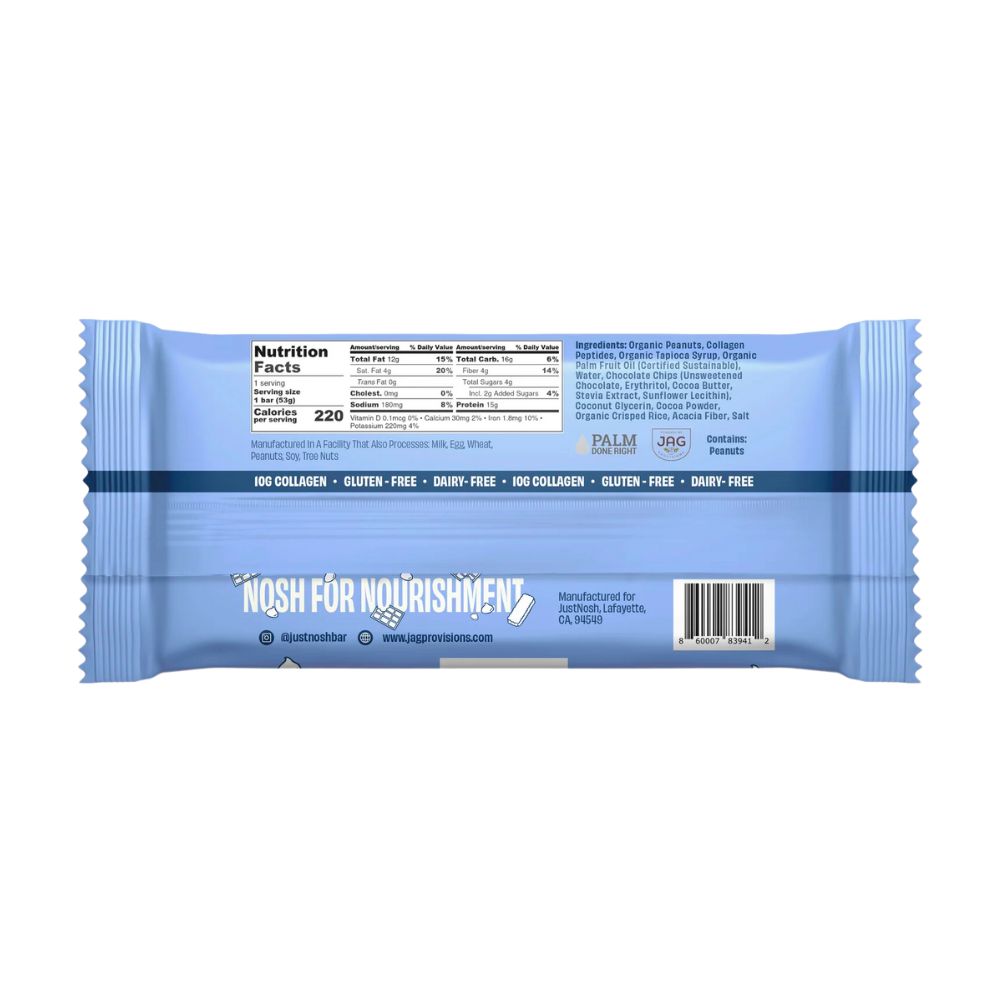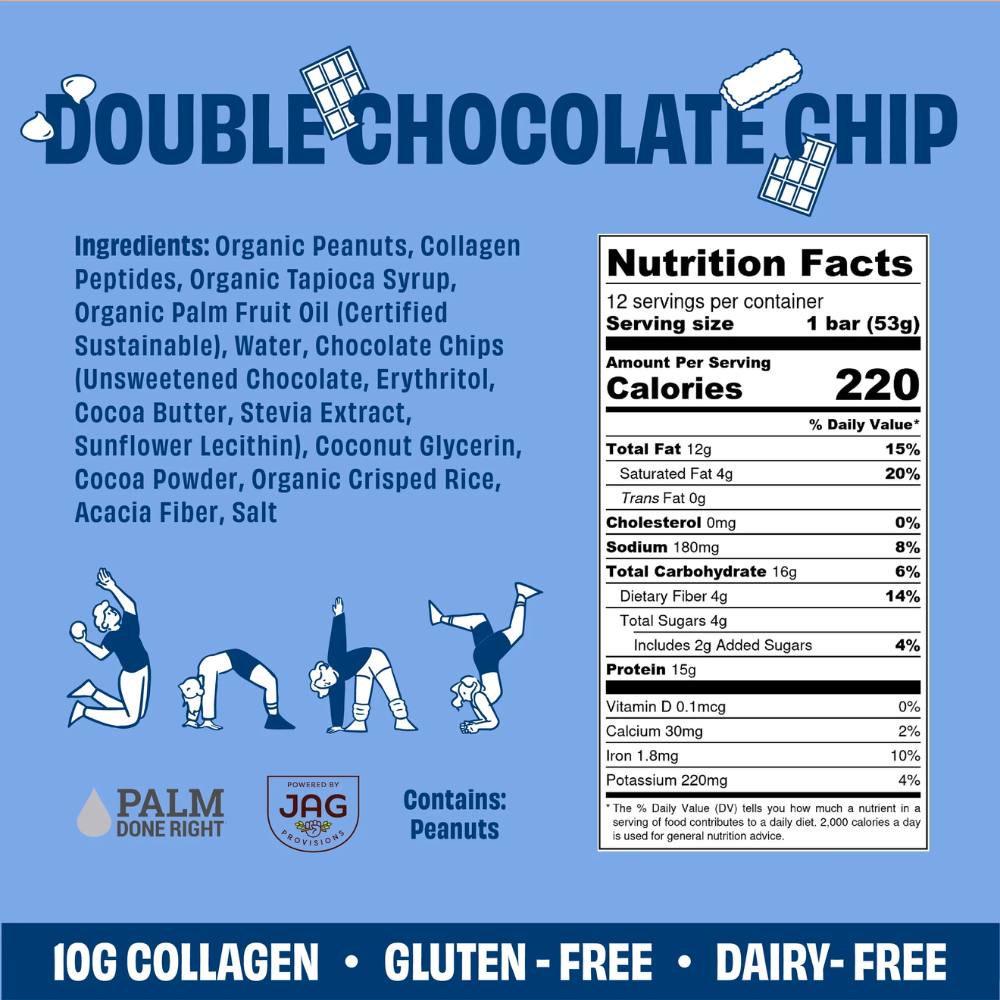 JustNosh is the first premium protein bar specifically designed to deliver 10g of collagen and balanced macros, in an easy to digest form.
This is NOT a candy bar with added protein! Our delicious bars are FODMAP friendly, gluten and dairy free, and use only real food ingredients. We offer our unique JustNosh bars in three delicious flavors- Double Chocolate Chip, Snickerdoodle, and Peanut Butter. Each bar has 15+g of protein, 10g of collagen, balanced macros, and no added refined sugars or seed oils. It was very important to the founder, Jennifer Newman, that these bars could easily be digested by those who typically struggle with the sugars, gluten, whey, and fibers found in the majority of bars on the market. No need to compromise taste for health when you choose to nosh on a JustNosh collagen protein bar.
Shop All