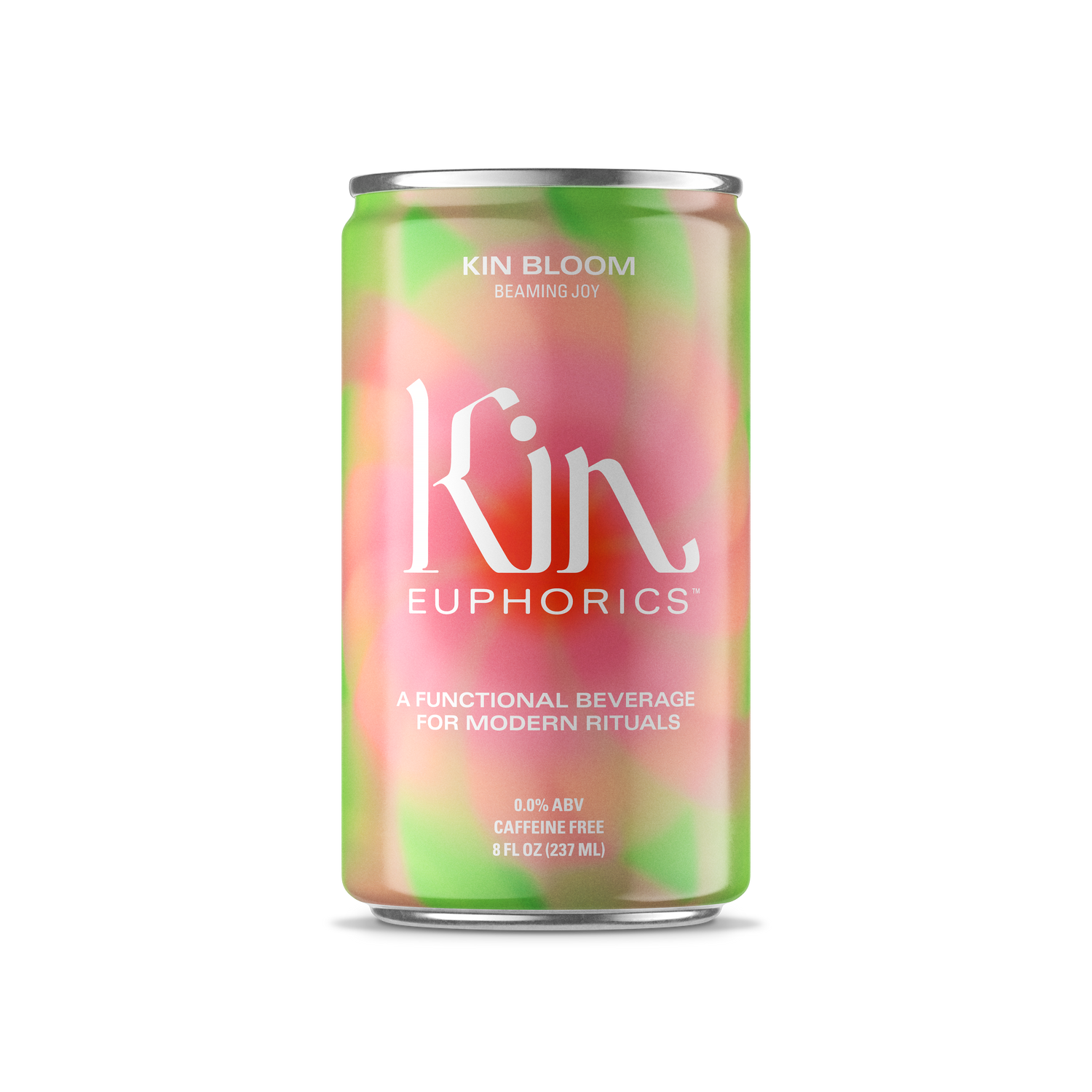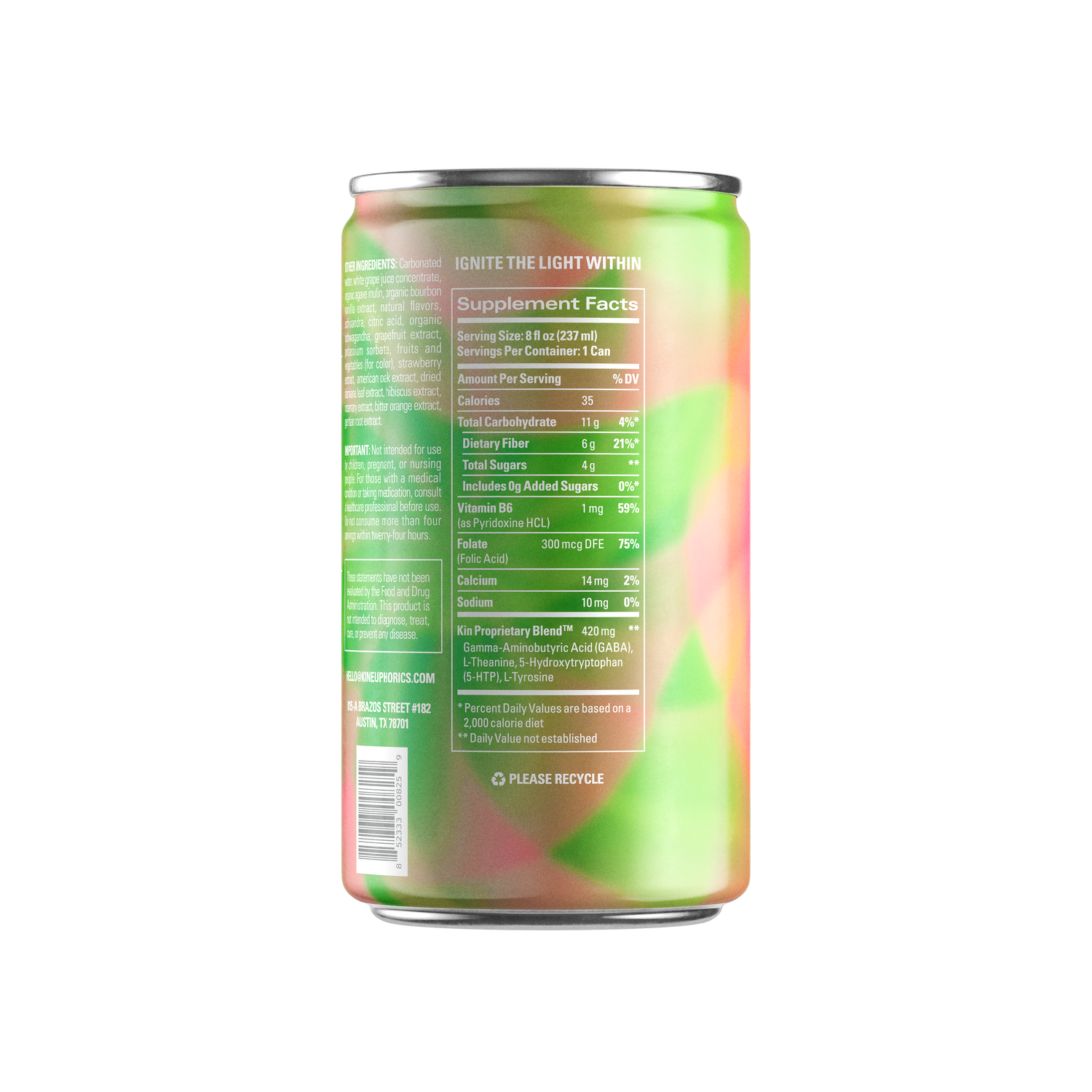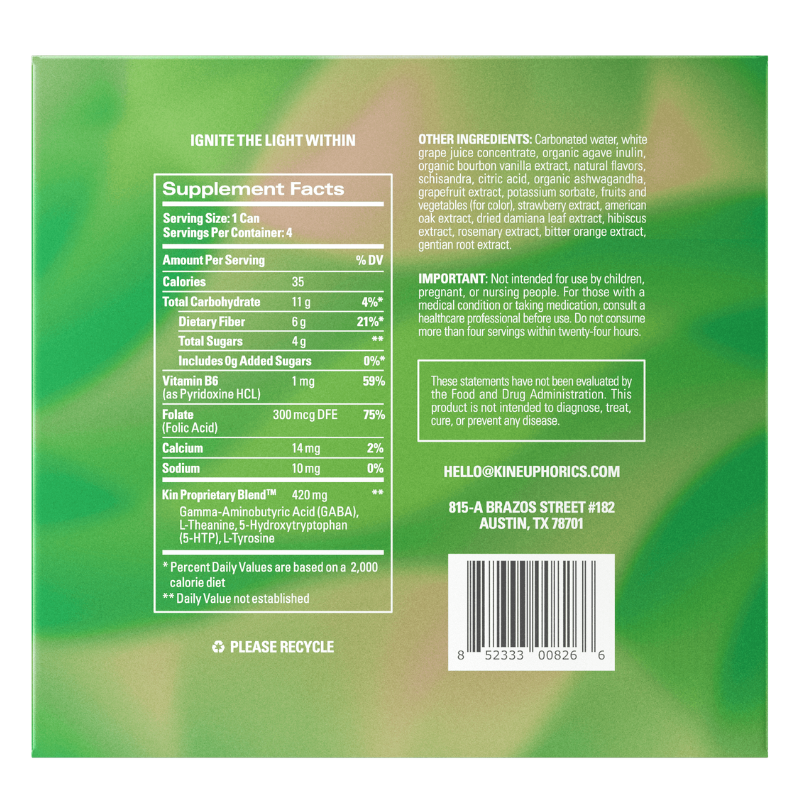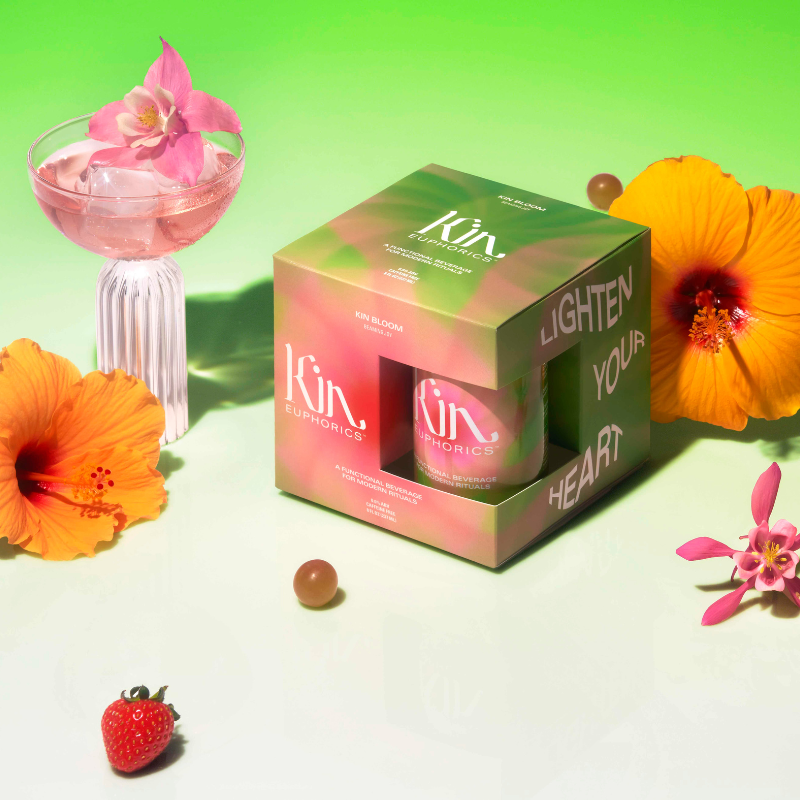 Taste the summer of love. Non-alcoholic Kin Bloom is infused with adaptogens, nootropics, and botanics like Schisandra, Damiana, and L-Theanine to awaken passion, conjure a calmer mind, and unlock heart-opening joy any time of day.
Ingredients
Carbonated water, white grape juice concentrate, organic agave inulin, organic bourbon vanilla extract, natural flavors, schisandra, citric acid, organic ashwagandha, grapefruit extract, fruits and vegetables (for color), strawberry extract, american oak extract, dried damiana leaf extract, hibiscus extract, rosemary extract, bitter orange extract, gentian root extract.
Attention
Please note that safety is our main priority. We require all brand partners to participate in recurrent verification processes to confirm existing information and actively report any updates to ingredients and/or production facilities. Please be sure to double check for certifications that satisfy your requirements, and read the product's label when you receive it, adhering to the manufacturer's guidelines.
How to Use
Chill, sip, enjoy!
Kin Bloom
Regular price
Sale price
$3.99
Unit price
per
Save 10% by subscribing to a monthly refresh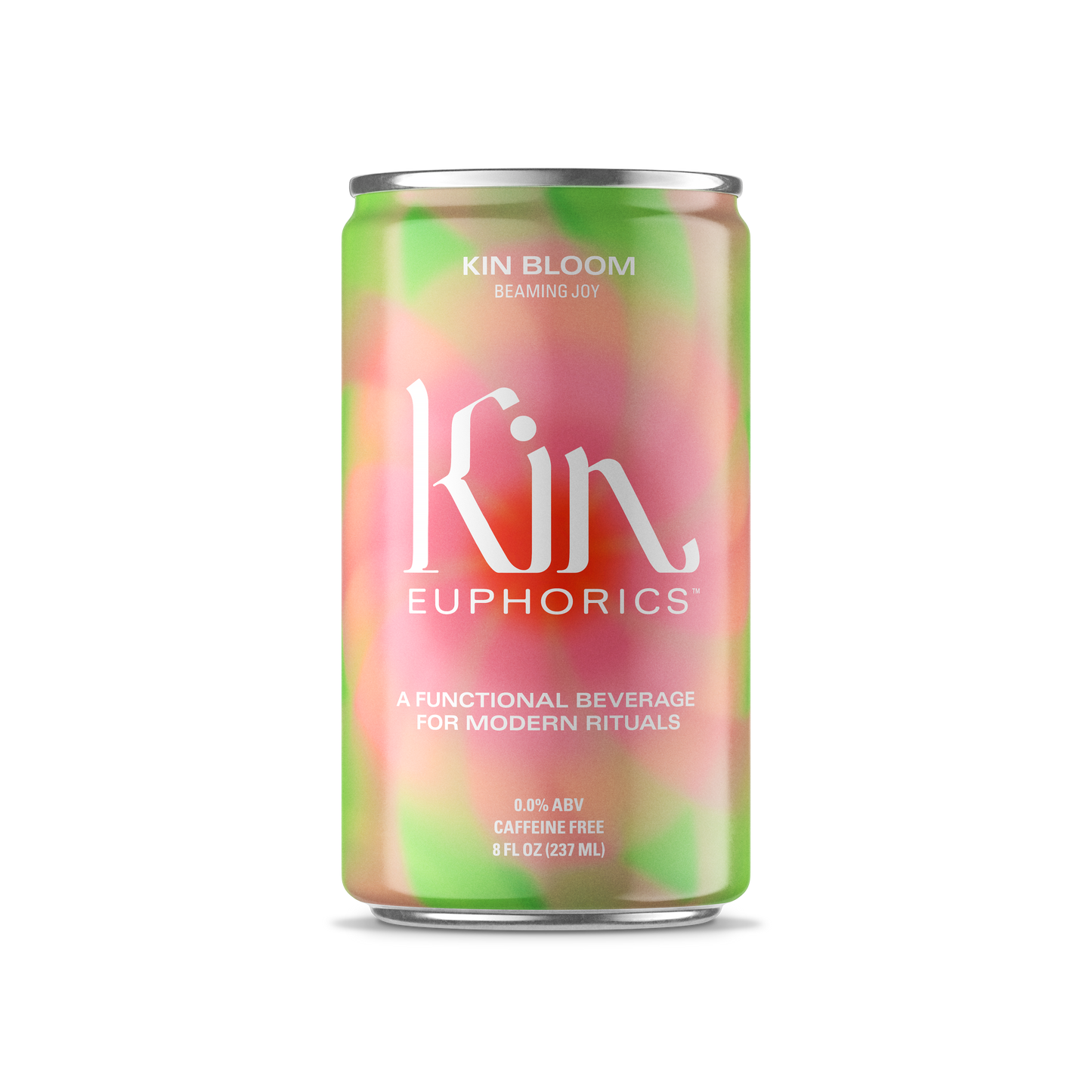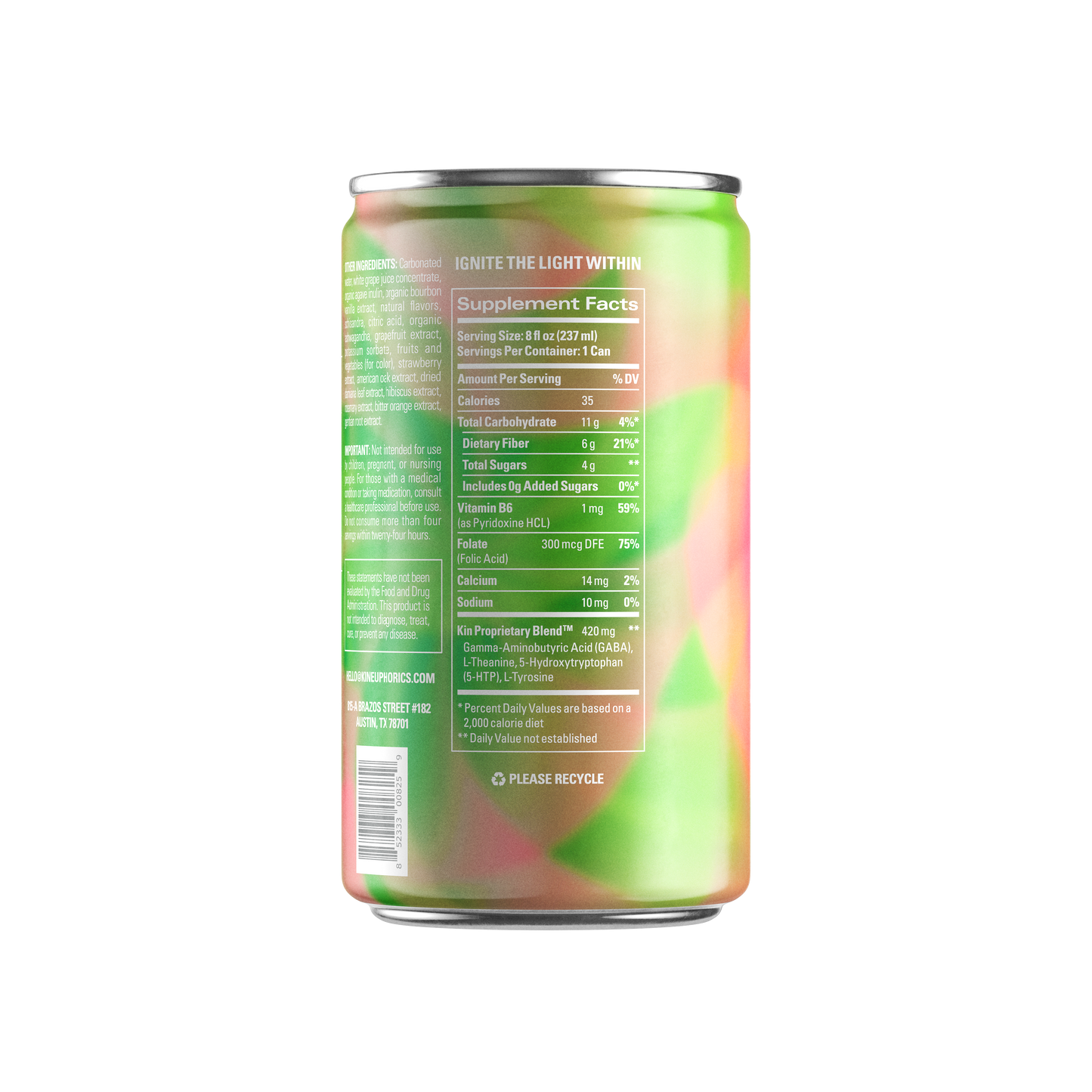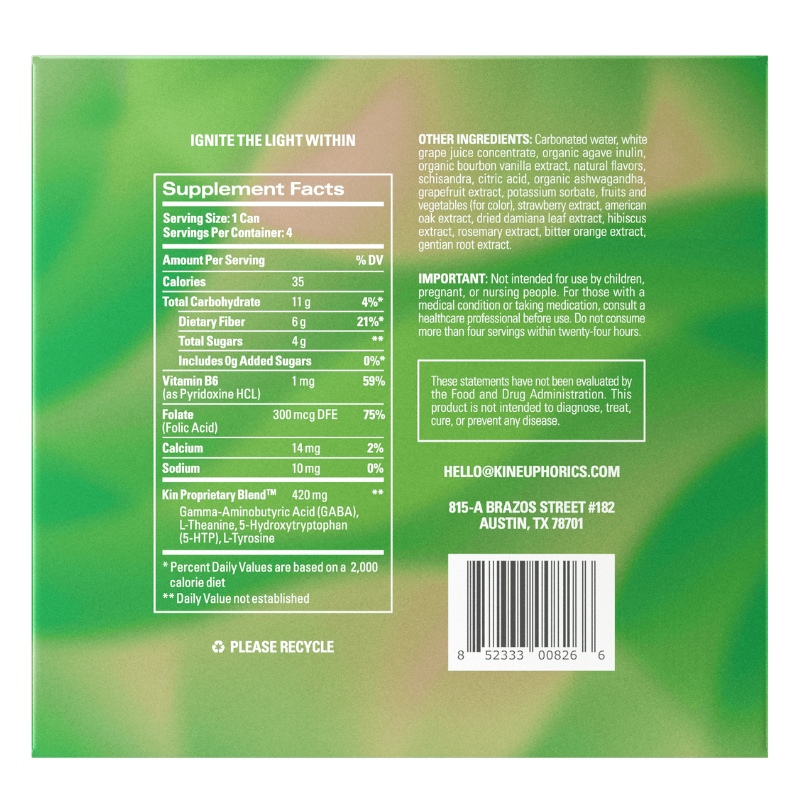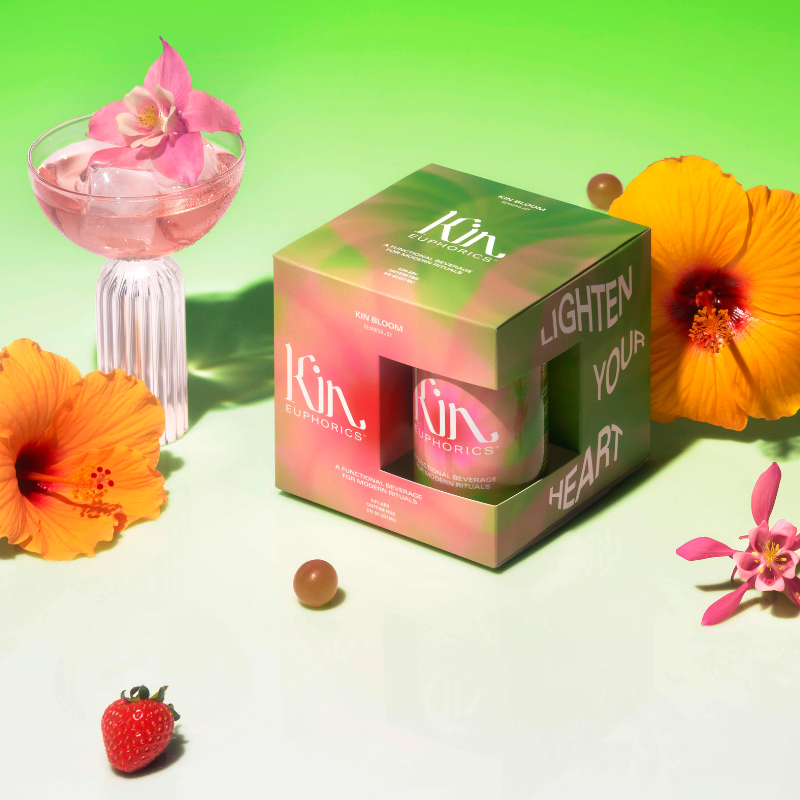 Your Cosmic Reboot Awaits!
Kin transforms the world's oldest social ritual, drinking, into a thoughtful act of taking better care of ourselves. Kin Euphorics was born from the minds of Jen Batchelor and Bella Hadid - spirited creators, fearless mixologists, and lifelong learners. Jen Batchelor (Co-Founder & CEO) was raised the daughter of a bootlegger in the desert sands of Saudi Arabia, Jen has been a lifelong witness to the intersection of magic and science. Bella Hadid (Co-Founder) is a supermodel, activist, and now beverage mogul. Bella's keen eye and global influence have catapulted her ascension to reigning industry maven. Kin's blends are enhanced with a concoction of adaptogens, nootropics and botanics to elicit a desirable feeling (energy, joy & calmness) with extraordinarily high efficacy. Kin's portfolio includes 3 RTD flavors in a can that vibes with you, as well as 2 Glass Bottle options, elegantly defined as the remix to traditional libations. These premium Kin options are top-shelf blends of concentrated magic sans alcohol. Set your mind free!
Shop All