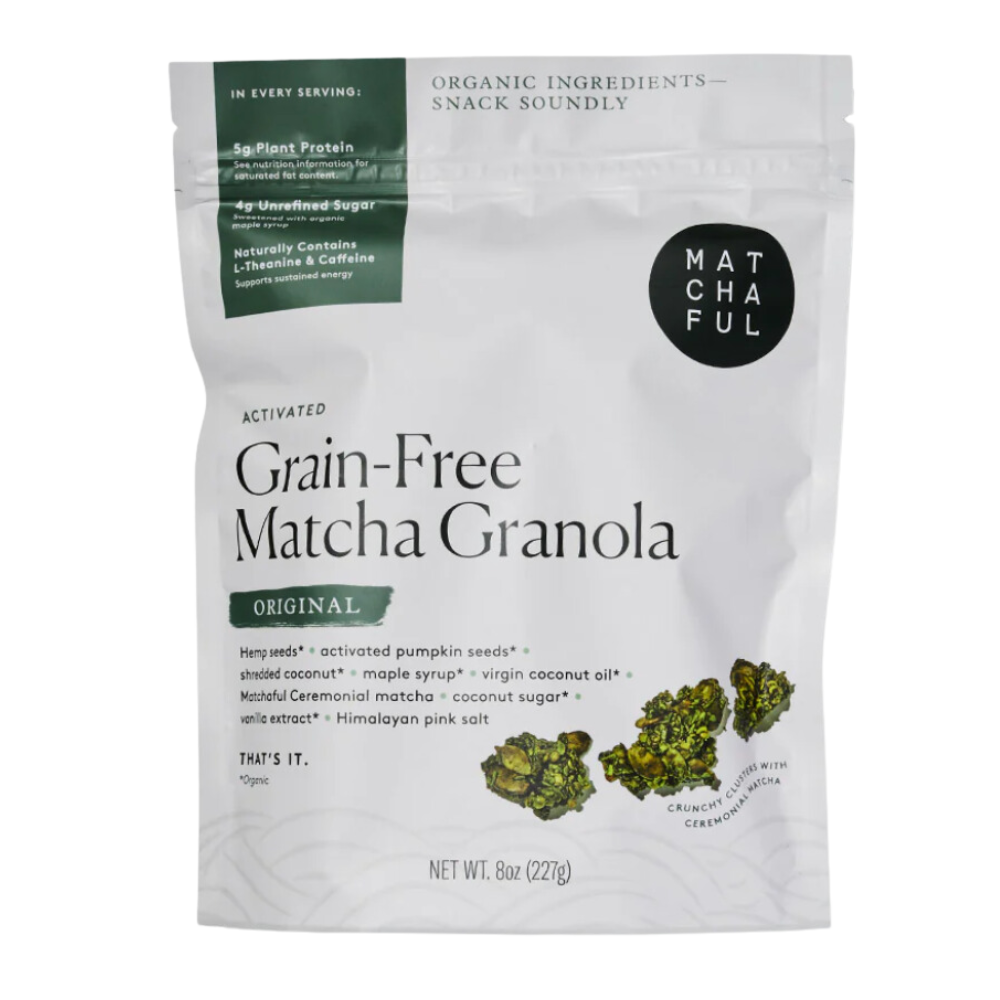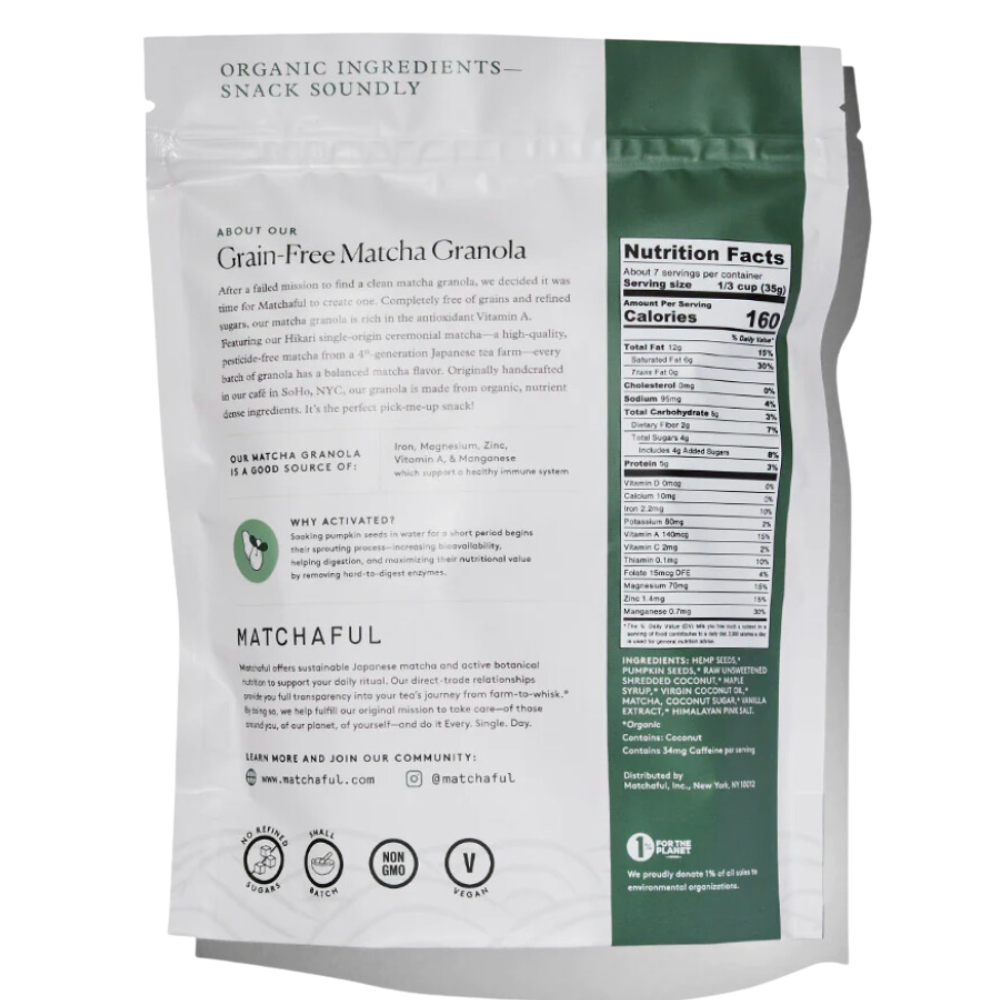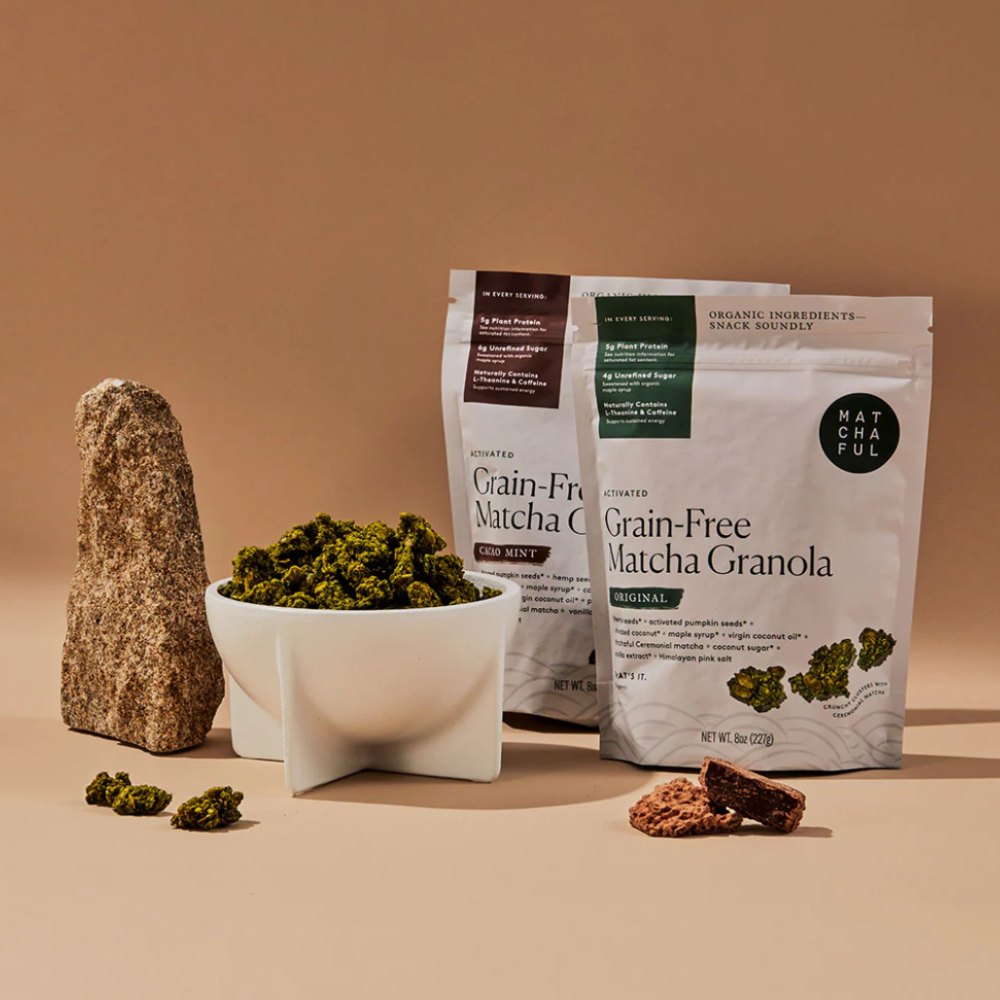 Delicious from the first bite, nourishing for the body, and easy on the eyes—our Activated Matcha Granola is a snack like no other. Handcrafted in our plant-based Soho kitchen, this Vitamin A rich granola is completely free of grains and refined sugars.
Lifestyle Details
Organic

Organic

According to the most recently updated manufacturer information, this product is Organic. Please note that additional lifestyle preferences, other than the ones already listed, may apply - so make sure you check the remaining product details.

Organic
Ingredients
Hemp seeds*, pumpkin seeds*, raw unsweetened coconut flakes*, maple syrup*, virgin coconut oil*, Matchaful Hikari matcha, vanilla extract*, coconut sugar*, Himalayan pink salt
Attention
Please note that safety is our main priority. We require all brand partners to participate in recurrent verification processes to confirm existing information and actively report any updates to ingredients and/or production facilities. Please be sure to double check for certifications that satisfy your requirements, and read the product's label when you receive it, adhering to the manufacturer's guidelines.
Original Grain-Free Activated Matcha Granola
Regular price
Sale price
$14.99
Unit price
per
Save 10% by subscribing to a monthly refresh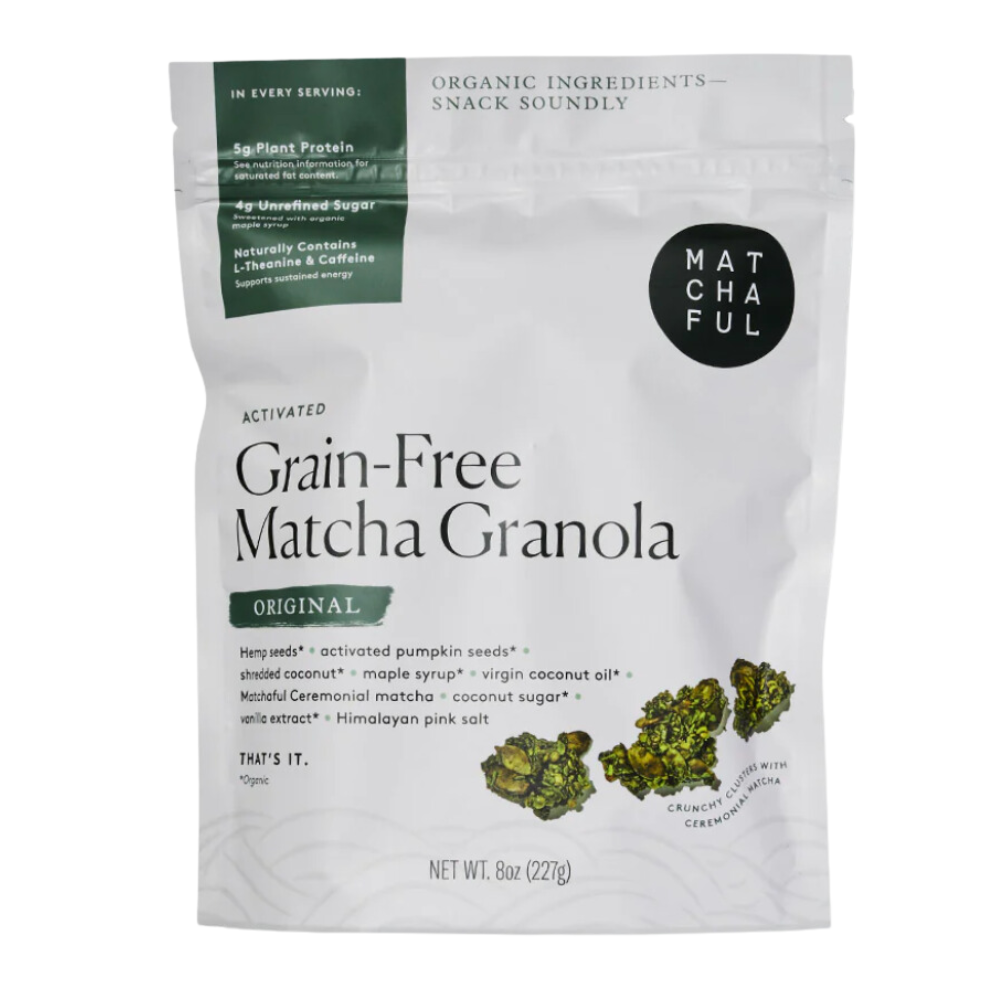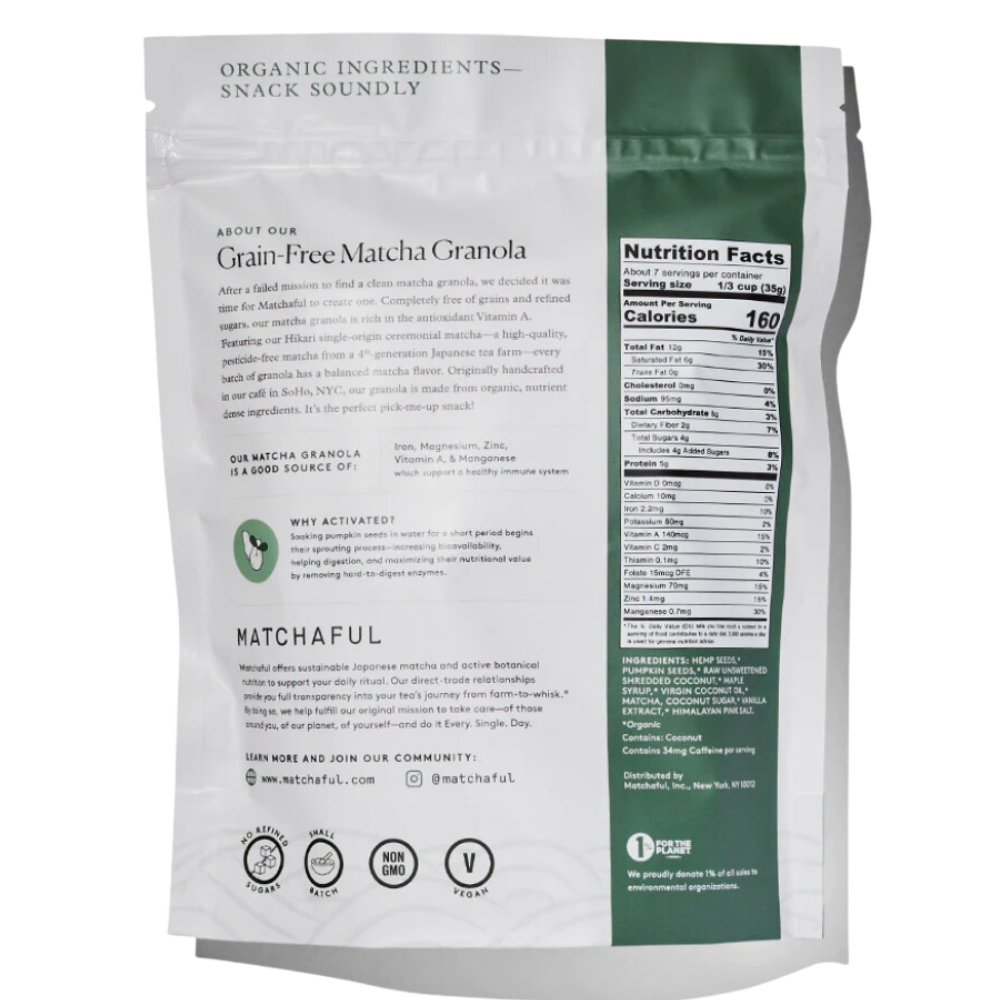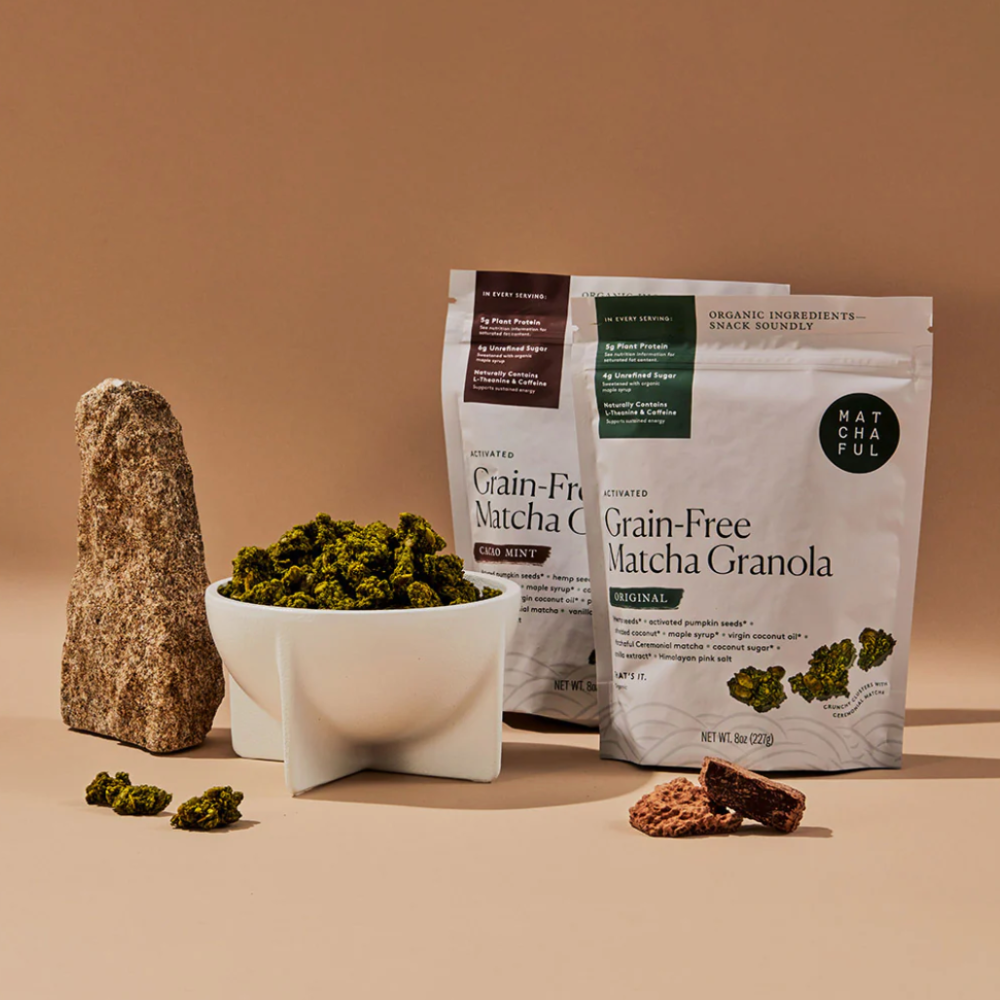 Each Matchaful product is crafted with care to benefit overall wellbeing.
Matchaful is a female-founded purveyor of premium Japanese matcha and active botanical nutrition. To us, these two elements—matcha and botanical nutrition—are inherently linked in support of your daily ritual. With a focus on quality, we hand-select ingredients to create nutrient dense products with functional health benefits and fresh flavors. Each Matchaful product is crafted with care to benefit overall wellbeing. At Matchaful, we believe you should know where your matcha came from and the journey it took to get to you, from farm-to-whisk™.
Shop All